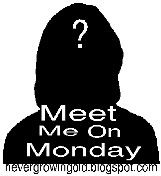 Linking up once again with Java at Never Growing Old for Meet Me On Monday... this week's questions (and answers!)...
1. Do you watch any Soap Operas? Nope - none!
2. What appliance is used most in your house? Refrigerator - of course!
3. Do you wear make-up everyday? Yep - though not a lot!
4. What is your worst pet-peeve? Ooooh, I have SO MANY - dirty nails, slow walkers, cashiers who don't know how to pack my bags, people who seem to know everything, close talkers...
5. What is your favourite lunch meat? Turkey!
Until next week...