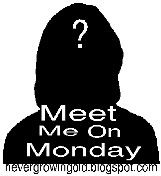 This week I'm joining in on the 2nd edition of Meet Me On Monday hosted by Java at
Never Growing Old
It's a chance for my 'peeps' to get to know me a little better. Here are my answers to this week's questions...
1. How many brothers and sisters do you have? I have 1 younger brother.
2. What is your favourite thing to do? Snuggle with my girls!
3. What countries have you visited? United States (hello cross-border shopping!), Dominican Republic, Cuba and that's about it - I live in CANADA!
4. Are you a morning or a night person? I'm kind of a mid-morning person :)
5. What's your favourite cereal? Honeycomb - I recently re-discovered it and can't seem to start my day without it!
That's it for this week, catch y'all next Monday!