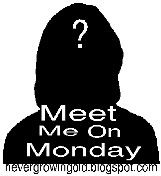 Here are this week's questions AND my answers!
1. Are you a collector of anything? Um, no.
2. Do you have any tattoos or piercings? I have a tribal sun tattooed on my stomach and 5 earrings in one ear and 3 in the other... I got my tattoo and my last ear piercing when I was 18! I should also mention that not one of my 3 girls have their ears pierced! Maybe one day when they're much older and ask, but for now, none :)
3. What is your favourite salad dressing? Ranch all the way!
4. What was the last thing that you ate? Breakfast - Honeycomb!
5. What was the last movie you saw? We're big movie watchers here! Last *new* movie I saw was Toy Story 3... it was fantastic!!
See you all next week!!