Welcome to the second edition of Blog Hop Friday, hosted by
My New Life As Mom
,
Chubby Cheeks Thinks
,
Take A Mom's Word For It
,
Bree Bee's
,
This Adventure Our Life
and
Belly Charms
! We invite you and your friends to link up every Friday and join us for a wonderful blog hopping adventure! We're all about making friends and having fun so come join us! Here's how you can join in on the fun;


Link up to your blog, using our inlinkz link list, below.


Follow the host/hostesses located in the first 6 slots.


Follow any other blogs that you feel appropriate! :)


Add the Blog Hop Friday button to your sidebar.


When following a new blog, please remember to leave a little personal comment love.


If you get a new follower, please feel free to reciprocate the love.
While you're here I would love if you'd enter my current giveaways! They all have under 100 entries so your chances of winning are GREAT!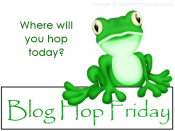 This is a new list every week, so please remember to come back and link up, every week!
Please remember to send a little comment love when you follow someone's blog. The point of this is to gain new followers and new friends, so please take a second to send a personal comment on their latest post, something you like about their site or maybe something you find interesting.
We understand that not everyone has time to follow and comment on every Blog Hop Friday Participant, just do what you can and are willing to do. We will do the same! Take your time and go at your own pace.
The link list is only open to add new blogs on Fridays but will be visible all week long.
So go link up and hoppy blog hopping!