Happy Friday Follow! Thanks for stopping by - I'm glad you're here! Please have a look around AND please enter the 2 giveaways I have up...
FF is hosted by
One 2 Try
,
Midday Escapades
and
Hearts Make Families
. This week is also special because it is being sponsored by Tooth Soap... check them out.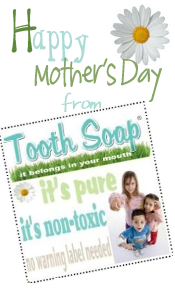 This week's "Mommy-isms"...
I have NOT been allowed to open my daughters' backpacks for the last week and a half - "It's something for a special day!" I have this sneaking suspicion I'll be getting 20 or so paintings this Sunday! :)
"H" had a brilliant idea in the van this week when it was raining. "Birds can just turn their nests upside down and then they'll stay dry!"