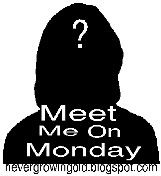 Here are this week's questions AND my answers!
1. What is your favourite fast food restaurant? Micky D's (McDonalds)!
2. If you were given complete freedom to start afresh, what profession would you choose and why? Oh my, I'm not sure... kind of a heavy question first thing in the morning... Stay-at-home-mom!
3. Do you prefer your toilet paper to come over the roll or under the roll? Over the roll - it's the ONLY way!
4. What was your favourite TV show as a kid? Smurfs, Rainbow Brite, Care Bears, Fragle Rock
5. What is you favourite summer drink? Iced tea for sure... the Canadian, sweetened kind!