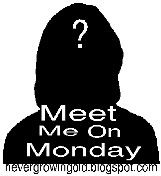 Linking up once again with Java at Never Growing Old for Meet Me On Monday... this week's questions (and answers!)...
1. What do you normally eat for breakfast? Um, Honeycomb :)
2. What kind of car do you drive? Don't you mean mini-van?! I drive a Pontiac Montana (mini-van!).
3. Have you ever met a famous person? NEVER, seriously, never... BUT I do have a trip to Vegas planned for the fall, maybe I'll get lucky!
4. What is your favourite ice cream flavour? Cookies N' Cream
5. Which TV channel do you watch the most? Playhouse Disney *head down*