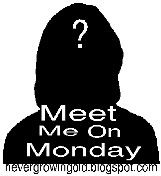 Linking up once again with Java at Never Growing Old for Meet Me On Monday... this week's questions (and answers!)...
1. What is your favourite sandwich? Um, not a big sandwich eater, but I always love a good BLT!
2. What is stashed under your bed? Believe it or not, absolutely nothing!! We moved just over a year ago and just haven't put anything under... oh wait, hubby does have a baseball bat! We live in a great community, but it makes him feel better ;)
3. What is your favourite flower? Sunflower. My Dad and uncle used to see who could grown the tallest sunflower.
4. What is your favourite magazine? Who has time for reading?! The only magazines I read nowadays are the ones in the doctors' office and the hair salon!
5. How often do you weigh yourself? Almost never. I've been about the same size and weight for years, minus of course being preggers with twins (7,7 and 8,4) and then again with my youngest (7,9).