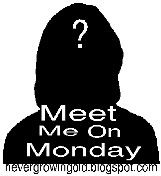 Linking up once again with Java at Never Growing Old for Meet Me On Monday... this week's questions (and answers!)...
1. What 1 food could you eat every single day?
I'm with Java on this one... PIZZA! And, I'm slowly converting my girls. There was a time when the door bell would ring and Little S would shout "pizza!"
2. Do you wear glasses or contacts?
Neither! At least not anymore. I used to wear contacts, but had laser surgery after my twins were born - BEST decision ever - totally life changing!
3. What kind of cell phone do you have?
I have a Motorola Krazor... next is def an iphone!
4. What did you have for dinner last night?
Mc Donald's! We went on a day trip to a local amusement park and were totally exhausted - Micky D's was on the way home!
5. What is your favourite candy?
ANY!! I am a total candy junkie! I do love sour coke bottles, sour keys, hot tomales, cherry blasters...